Mono form for concrete foundations – Aho Construction
Construction, a local home builder, has been saving energy, money, and resources for years. Their foundation crew uses a one-piece, or "mono," form when they pour concrete foundations. This allows them to pour the wide footing and narrow foundation wall at one time. Customarily, this is a two-step process.
It takes many years for a durable and reusable aluminum form to wear out. When it does, it can be recycled. Wood forms do not last as long and cannot be recycled because they are treated with a release oil.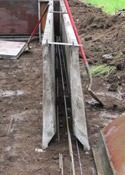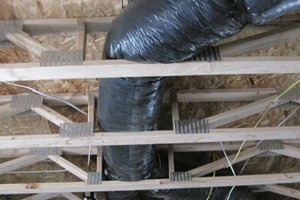 Open web trusses – Chuck Dougherty Design
The placement of the heating/cooling system and related duct work is usually not a priority in the design of most homes. However, a key element to energy efficient design is keeping duct work inside the conditioned space of a house. Chuck Dougherty Design uses open web floor trusses to provide space for running duct work inside the conditioned space of a two story house, as pictured here. Open web trusses also allow easier and quicker installation of duct work, plumbing pipes (with plenty of room to wrap sound deadening insulation), and low voltage wiring for sound or security systems.
Build it tight and ventilate it right – New Tradition Homes
Rigorous air sealing, ductless heat pumps, a heat recovery ventilation system, and extruded foam on the exterior wall are all part of New Tradition's energy efficient homes.
Foam on the outside of an exterior wall reduces thermal bridging through the wood studs and increases air tightness of the building shell. Thermal bridging is heat being conducted out of a structure through solid objects.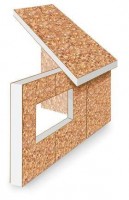 SIPs for reduced thermal bridging – Structures NW
Structural insulated panels (SIPs) are a high-performance, green building system that's been around for decades. SIPs consist of an insulating foam core sandwiched between two structural facings, typically oriented strand board (OSB). They are manufactured under factory controlled conditions and can be fabricated to fit nearly any building design. The result is a building system that is extremely strong, super energy efficient, cost effective, and quick to assemble with superbly reduced thermal bridging.
Retrofit insulated panels (RIPs) and exterior foam sheeting are also great choices for adding insulation to existing homes when replacing siding, windows, and/or roofing.
Advanced framing – Tamarack Homes
Tamarack Homes is test driving sustainable building practices in their Suburban Tract Home, which was featured in the BIA Parade of Homes in July, 2010. Tamarack has chosen to use advanced framing methods that reduce the amount of wood in the walls and increase the amount of insulation. A state-of-the-art ductless heat pump, along with a heat recovery ventilator, will be used to heat the 1,800 square foot home. The heat recovery ventilator extracts heat from the exhaust fans and re-introduces it into the fresh air entering the home. Ecobatt insulation and spray foam are used to keep the heat inside.
The right size header uses less wood and leaves more room for energy saving insulation, which is one of several features of advanced framing.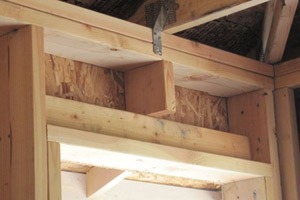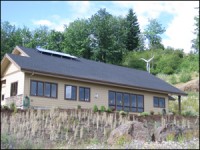 Near Net-Zero energy – Quail Homes
The primary goals of a high-performance, Net-Zero energy home are to be self-sustaining and maximize the energy efficiency, while at the same time generating power. Maximizing energy efficiency involves a holistic approach, combining passive solar with active solar features. Power generation primarily comes from the sun and wind.
Certified green developments – Urban NW Homes
With the first four-star National Green Land Development Certification from the National Association of Home Builders, Urban NW Homes builds homes with third-party certification to meet Energy Star, Resnet, and National Green Building Standard qualifications. They also provide an Energy Performance Guide (EPG) that shows a home's energy efficiency and an estimate of the average monthly energy costs.